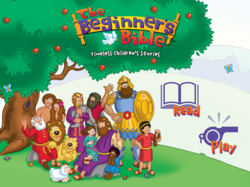 Zonderkidz announces the Beginner's Bible app for iPad
"The Beginner's Bible app brings favorite childhood stories to life in a new way for kids."
Grand Rapids, Michigan (PRWEB)
September 13, 2012
Zonderkidz announced that the highly anticipated Beginner's Bible App is now available in the Apple Store. The app is based on The Beginner's Bible, the best-selling storybook of all time, selling over 6 million copies since its release in 1989. With stories, coloring pages, games and more. audio, children six and under can enjoy their favorite Bibles. stories all by themselves.
"We are delighted to offer this app which creates a fun way for children to learn the Bible," said Annette Bourland, senior vice president of the Zondervan Group Book Publisher. "The Beginner's Bible is widely regarded as the first Bible a child receives. In a digital world, it is a priority for Zonderkidz to offer a Bible adapted to the youngest readers.
The Beginner's Bible App was designed to be easy for young children to use, but will also be a valuable resource for parents who also want to participate. The illustrations include interactive elements that a child can operate using the touchscreen.
The Beginners Bible App is available free of charge. The free download includes six interactive Bible stories, coloring pages, puzzles and a game. Additional story packs will be available for $ 1.99 and will include six new stories, coloring pages, puzzles and a new game. based on one of the stories. All story packs will be released over the next three to five months. At that time, the complete storybook bible will be available to consumers.
The app has already received rave reviews. Craig Groeschel, Pastor of Lifechurch.tv said, "I was blown away by the Beginner Bible app. This app provides a fun way for kids to interact with the Bible using technology they can relate to. Lori Cunningham, Founder of WellConnectedMom.com, said, "The Beginner's Bible app brings favorite childhood stories to life in a new way for kids.
To learn more about The Beginner's Bible App, visit: http://app.beginnersbible.com.
Zonderkidz ™, a division of Zondervan, inspires young people with imagination and innovation. As a leader in Christian communications for children, she produces bestselling and award-winning bibles, books, hardcover, graphic novels, audio, video and digital products that lift the hearts and touch the souls of children under. 16-year-olds and the people who love them, from family members to educators. Zonderkidz is the editor of the New International Reader's Version (NIrV) Bible, the 3rd grade reading level edition of the NIV that is ideal for children and those who speak English as a second language. Visit Zonderkidz on the Internet at http://www.zonderkidz.com.
About Zondervan

Zondervan, an imprint of the Christian division of HarperCollins, is a global leader in Christian communications and a leading Christian publishing brand. For over 80 years, Zondervan has delivered transformational Christian experiences through general and academic resources by influential leaders and emerging voices, and has been honored with more Christian Book Awards than any other publisher. Based in Grand Rapids, Michigan, with additional offices in Miami, Zondervan publishes its best-selling Bibles, books, audio, video, programs, software and digital products through its brands Zondervan, Zonderkidz and Editorial Vida. Zondervan resources are sold worldwide in retail stores, online and through Zondervan ChurchSource, and are translated into nearly 200 languages ​​in more than 60 countries. Visit Zondervan on the Internet at http://www.zondervan.com.
# # #
Fast facts
-The Beginners Bible App is based on The Beginner's Bible which is the best-selling children's storybook of all time with over 6 million copies sold.
-The initial concept of the Beginner's Bible was first developed in 1984. At that time it was called the Dovetales series and consisted of a collection of 48-page booklets with audio cassettes.
-In 2005, The Beginner's Bible also underwent a complete overhaul with both art and text and is available in over 20 languages ​​around the world.
-More than 15 million units of all formats of The Beginner's Bible books have been sold and it received the Retailer's Choice Award in 2006 by the Christian Booksellers Association in the United States and the Book Award of the children's year of the year 2006 in UK
-In 2008, Zonderkidz supported the brand with an interactive website complete with online games, educational resources and product information (http://www.TheBeginnersBible.com).
-The Beginner's Bible app is available for free and includes six interactive Bible stories, coloring pages, puzzles, and a game.
-Additional story packs will be available for $ 1.99 and will include six new stories, coloring pages, puzzles, and games. The first story pack for sale is available now.
-App Store link to download the free app: http://itunes.apple.com/us/app/the-beginners-bible/id539466818?ls=1&mt=8.
Share the article on social media or by email: