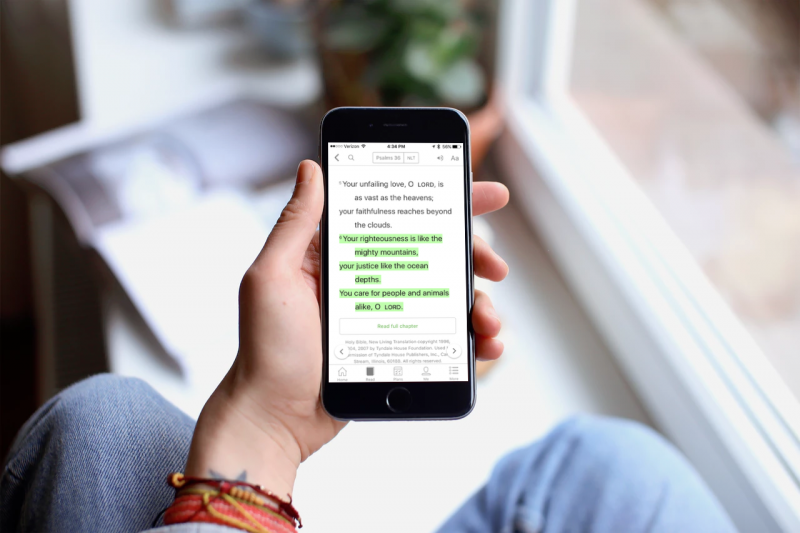 YouVersion Bible App Reaches 330 Million Devices, Offers 1,700 Different Bible Versions For 10th Anniversary
YouVersion marks the 10th anniversary of its Bible app, which it says has now been downloaded to more than 330 million devices worldwide.
Since its launch on July 10, 2008 by Life.Church in the United States, 70 billion Bible chapters have been read, 12 billion audio chapters have been listened to, and 2.4 billion days of Bible planning have been completed.
"We could never have predicted the results we saw, as millions of people around the world have read, listened to, shared and interacted with the Bible and with each other in new ways," said Bobby Gruenewald, pastor of Life .Church, innovation leader and founder of YouVersion.
"Very early on, we found that closeness helped us engage with the Bible. As soon as I had access to the Bible on the phone which is always in my pocket, my connection with it naturally became more frequent.
The app has seen massive growth. In 2008, it offered 15 versions and only two languages ​​of the Bible. But thanks to its partnerships with Bible societies, it now has over 1,700 different versions of the Bible in over 1,200 languages.
The popular app has kept up to date with smartphone innovations and introduced new ways for the Bible to reach people in their daily lives, such as daily worm notifications, reading reminders, reading sequences and other features to encourage Bible reading. .
"The past 10 years have been more than we could ask, think or imagine, and we believe this is just the beginning," said Gruenewald.
"As we look to the future, we are excited about the new ways God is using technology to help people make even more connections between the Bible and their daily lives. "
In December, YouVersion noted that more people than ever were reading, listening, reflecting and sharing God's Word through its app.
The most popular verse that was shared, bookmarked and highlighted was Joshua 1: 9, which reads, "This is my command: be strong and courageous! Do not be afraid and do not be discouraged. For the Lord your God is with you wherever you go. "
Gruenewald told the Christian Post in 2016 that "God has done so much more with the Bible App than we could have asked for or imagined, especially in bringing together a diverse group of people and organizations to rally around a common mission.
"Translators, editors, Bible societies, churches, authors and hundreds of volunteers came together in a massive coalition, all with one goal: to help people become fully engaged in the Bible," a- he told CP at the time.