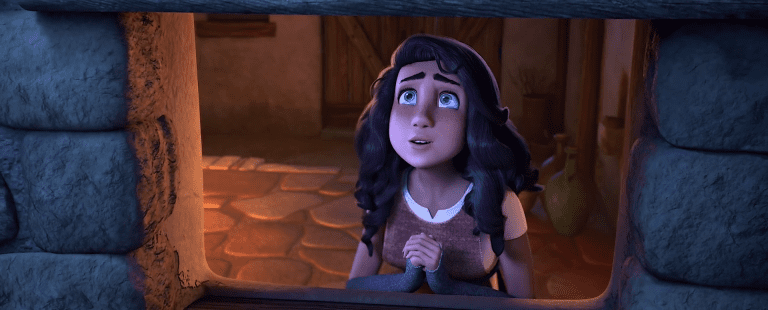 Watch (and Listen to): Music from the biblical animated film The Star
There are only five weeks left before The star – which tells the story of the Nativity from an animal point of view – is coming to theaters, so it's time for the studio to start ramping up their publicity. Today, Sony Pictures released two featurettes on the soundtrack for the film, and in two weeks the studio will release the soundtrack itself.
First up, here's a video promoting the soundtrack's album, which will be released on October 27. The video includes sound clips from producer DeVon Franklin and director Timothy Reckart, and gives special attention to the new theme song, sung by Mariah Carey:
Sony also released a preview of the premiere of A Great Big World's song "Life Is Good":
The studio also released a lyric video for "Life Is Good" at one point, but it appears to have been taken down. Don't worry, however; you can listen to the song through Spotify:
Here is a complete list of tracks from the album which will be released in two weeks; If there are any other songs uploaded before that date, I will add them to the above Spotify playlist:
1. Mariah Carey – "The Star"
2. Kelsea Ballerini – "Children go where I send you"
3. Kirk Franklin – "We the Three Kings"
4. Fifth harmony – "Can you see"
5. A big world – "Life is beautiful"
6. Zara Larsson – "Marie, Did You Know"
7. Yolanda Adams – "O Holy Night"
8. Save Forever – "What Christmas Means to Me"
9. Jessie James Decker – "Breath from the Sky (song by Mary)"
10. Casting Crowns – "His eye is on the sparrow"
11. Jake Owen – "What kid is this?"
12. Pentatonix – "Carol of the Bells" (bonus track digital only)
The studio also released a new trailer last week that I was too busy to rate at the time:
The Christian Post also spoke to director Reckart last week:
"It's a time of division we're living in right now, and stressful too, all the violence we read all the time. The power of this story is that you have so many people from all walks of life [involved]», Commented Reckart.

The young director pointed to the "three kings", calling them upper class foreigners from another country, and the local shepherds "at the bottom of the working class", noting that Jesus brought people together from all walks of life. .
You can see video footage from this interview here:
The star hits theaters across North America on November 17.
Update October 16: The lyric video for 'Life Is Good' is now online:
Check earlier The star trailers and other videos here: