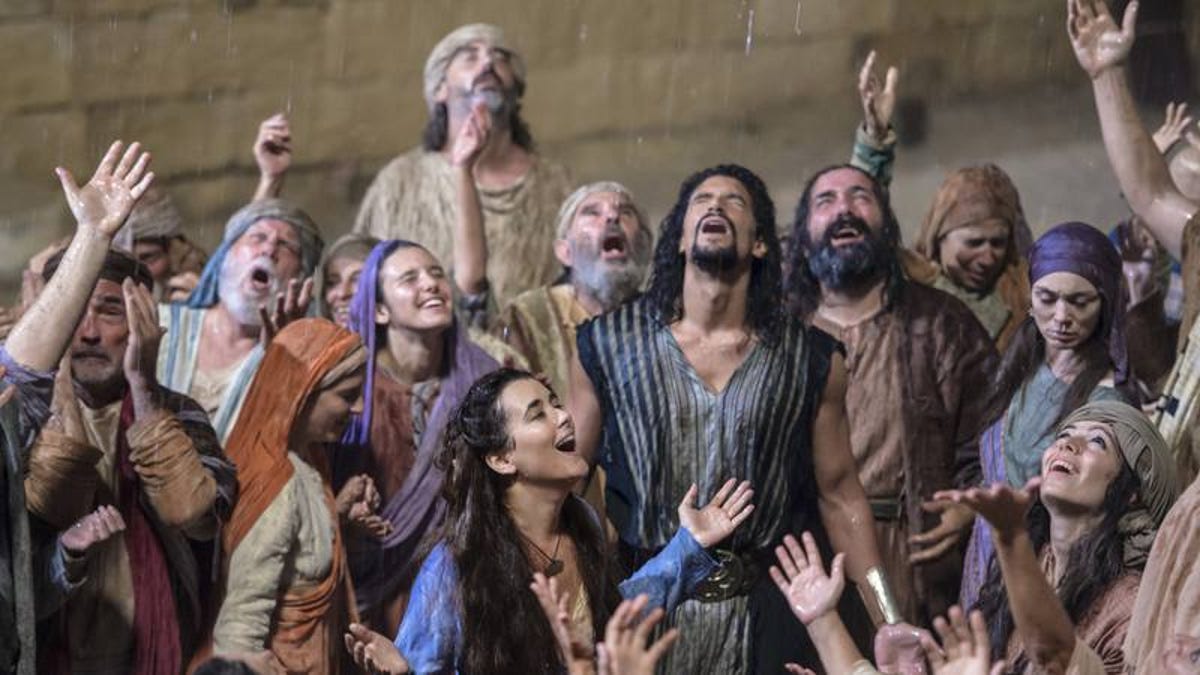 The Dovekeepers tell a confusing biblical story from a female perspective
If history is truly written by the overcomers, it makes sense that men get all the glory in tales of the biblical age. So what does it say that older women are seeing their story told now? Historical fiction has been attacking the other side of these women for some time, and now television has adapted these stories as well. Life has attacked that of Anita Diamant The Red Tent with a mini-series recounting the Old Testament through Dinah. This was preceded by a special on Women of the Bible, courtesy of the Married Powers of Faith-Based TV Programming, Touched by an angel actress Roma Downey and producer Mark Burnett.
Downey and Burnett clinched surprise odds gold with The Bible, a 10-hour miniseries covering the Old Testament, making their new adaptation of Alice Hoffman's film the dovecotes a logical step. And the dovecotes isn't their only prime-time Bible show. NBC will present AD: The Bible Continues (was Bible II: Judgment Day too cliché?) on Easter Sunday. (Another biblical rendering, National Geographic's Kill Jesus, aired March 29.)
Shot on location in beautiful Malta, the dovecotes focuses on Shirah (ancient NCIS favorite Côte De Pablo) and Yael (Card castle'Rachel Brosnahan), survivors of the Roman siege of Masada. According to the story (as the miniseries starring Peter O'Toole did in the early 1980s), the Jews of Masada refused to pay homage to their Roman conquerors, resulting in their deaths, in apocryphal fashion, because of a collective suicide. The women tell their story through Flavius ​​Josephus (Sam Neill), whose sole purpose seems to be to interrupt Shirah and Yael, constantly berating them for their extramarital banter and decision to choose faith over security.
This debate is at the heart of the dovecotes within the purview of Burnett and Downey, and the history of Masada as a whole. For some, Masada is a symbol of religious resilience, with the faithful choosing death over slavery, becoming a place of pilgrimage since its excavation in the 1960s. For others, it is a warning of the dangers extremism. The people of Masada are where the word "zealot" comes from, after all. Burnett and Downey positioned themselves the dovecotes to paint Shirah and Yael as passionate heroines, while Flavius ​​Josephus presents himself as a traitor sufficient to his faith (Shirah reveals that Flavius ​​Josephus is Jewish, who bowed before the Romans to save his own life) .
G / O Media may earn a commission
This is not the position of the dovecotes it's inherently problematic (if only because the audience is likely to agree), but how the story is told. As Shirah and Yael recount their story to Flavius ​​Josephus, audiences see their experience through flashbacks, from their meeting when Yael was a neglected child with only Shirah to care for her, to their reunion years over. late in Masada, with both assuming their title roles. (The Shirah in the miniseries is an amalgamation of two very different characters from the book, making her more confusing than Yael.) This type of storytelling as told works well in literature, but it gets in the way. the dovecotes, as Flavius ​​Josephus constantly goes down in history to berate these women for their choices, killing the momentum to insert a harsh point of view into the text. Flavius ​​Josephus was a historical figure who documented the siege, but in the dovecotes he acts more like a symbol than a character, which doesn't make for a particularly good storytelling.
The position of Flavius ​​Josephus in the dovecotes It might be even more glaring if any of the other characters were fully drawn, but they aren't. The two main women, as well as Shirah's daughter, Aziza (Kathryn Prescott), are the most realized characters, but seem to be motivated more by romantic affinities than by their faith. In their quest to bring these faith stories to the small screen, Burnett and Downey also understand the need for entertaining television. There is sex and violence galore, and while the story gives a reason for the blood, sex takes the place of all sorts of depth in the relationships between the women and men they love. Shirah speaks of her intense love for (married) charismatic leader Eleazar Ben-Ya'ir (Mido Hamada), but all he stands for is someone she looks longingly on from afar. When Flavius ​​Josephus wonders why these women risk their lives and the lives of their children, their declarations of undying love fall flat. Why would they risk death for these guys? This is a largely unanswered question.