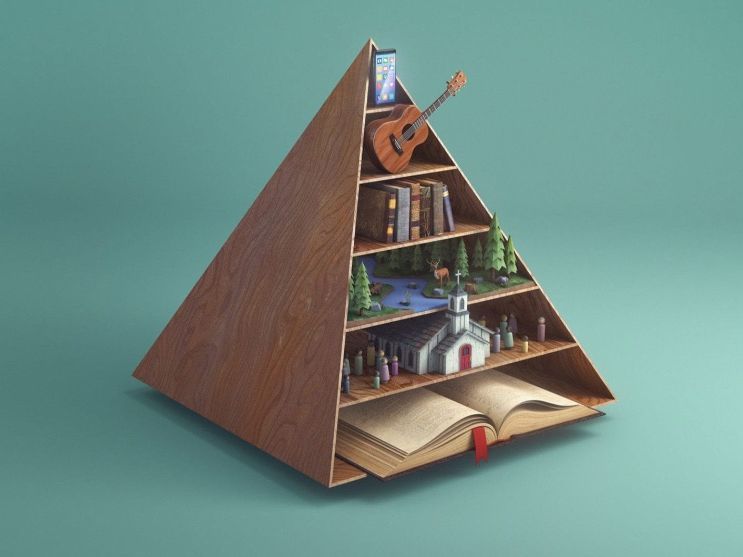 Social media less essential than books, nature and the Bible
Content of the article
I recently read a book called The Wisdom Pyramid by Brett McCracken in which he explained how to become wise in a busy, noisy and increasingly digital world where we are bombarded with an overload of information and opinions.
Content of the article
The author pointed out that we don't grow much wisdom from sound bites, social media, headlines, blogs, TikTok videos, and other popular short-term sources. Not that we should completely avoid all of these things. But they should be in their place – sixth place to be exact – when it comes to growing in wisdom.
The author's wisdom pyramid is based on the old food guide pyramid that many people have seen. And it lists six categories of levels of knowledge input that we should go to, with Level 1 being the most important and Level 6 the least important.
Level 1 is the Bible. The Bible should be our daily bread, our source of wisdom and knowledge. After all, it is the Word of God written for us to guide, teach and train us. As Proverbs 9:10 says, "The fear of the Lord is the beginning of wisdom, and the knowledge of the Holy is insight. » Through the Bible, we come to know God and his Son Jesus Christ, who is the ultimate source of wisdom. We should focus our time and energy on the Bible as our number one priority each day.
Content of the article
Level 2 is the church. The church is important for at least two reasons. First, the tested truths of Christian theology handed down throughout the history of the Church help us to anchor our lives in unchanging truth. And second, local church communities connect us with wise people and surround us with opportunities for growth in knowledge and wisdom as we learn from others who have learned from Bible reading and church history.
Level 3 is nature and beauty. God speaks to us through nature and Psalm 19:1-2 says, "The heavens declare the glory of God, and heaven above proclaims his work. Day by day pours out the word, and night by night reveals knowledge.
If God speaks through the beauty and order of his creation, we should go out and listen. Beauty is also found in human creations like art and music, which we should appreciate more.
Content of the article
Level 4 corresponds to books. We should read more books and fewer blogs and articles (although I'm glad you read this one), less Twitter and Facebook, and more well-written, classic, historical, and new books.
Did you know that even computer and internet titans are book readers? Bill Gates reads 50 books a year and Mark Zuckerberg reads at least one book every two weeks. Whether it's fiction, non-fiction, poetry, or other genres, we would be wiser if we read more books.
Leven 5 is the Internet. The internet isn't entirely bad, but it should be used sparingly and specifically rather than for constant, mindless surfing.
And, finally, level 6 is a subcategory of the Internet – social media. We should use it even more sparingly than the Internet. I use it, as does the author of The Pyramid of Wisdom. It's not bad in itself, but it's not a great source of deep wisdom. Use them sparingly with books and nature, and use them sparingly with church and the Bible.
The idea of ​​the wisdom pyramid, like a food pyramid, is that the first levels should be our usual diet, and as we get to the higher levels we should use them less and less. Focus first on the Bible, then focus clearly on church and community, then on God's creation in nature and human creations, then on books, and finally, use the internet and especially the social media sparingly.
The Reverend Mark Smith is the senior pastor of Lansing Avenue Baptist Chapel and he thinks he is gaining wisdom, although he is the first to admit the process is slow.