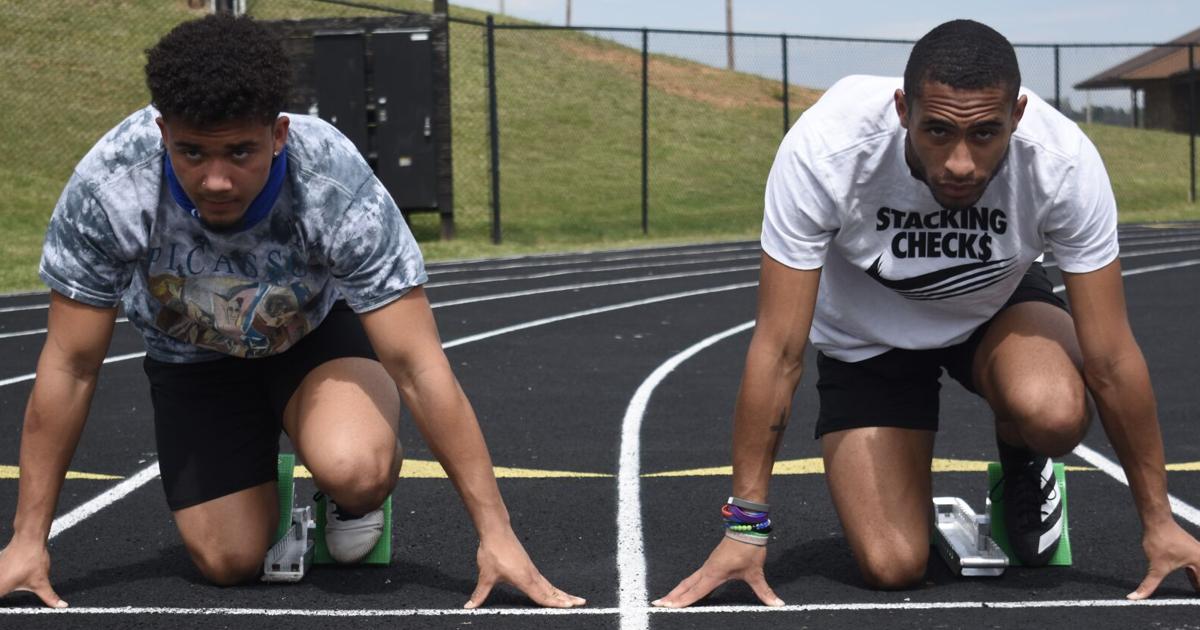 Crazy race: Greene Devils sprinters Stevenson and Gudger rewriting the record books | Sports
[ad_1]
GREENEVILLE — With its recent surge in sprint events, Greeneville could be rebranded as "East Speed ​​City."
And senior Greene Devils star Jaden Stevenson is most definitely the mayor.
"It's going to take work to get to the top," Stevenson said. "I'm looking forward to doing my drills well and getting off to a good start, especially in the 200. I feel like I can go lower than what I have."
If Stevenson is the mayor, then fellow seniors Mason Gudger and Dustin "Brock" Moore Jr. are two of the city's aldermen.
Gudger is normally the first leg of the 4×100 meter relay. Moore is arguably the best short distance hurdler in the state.
"4×1 is my favorite race because I like the team aspect," Gudger said.
"Having four fast guys like us in the same class is special and we're all very close."
Gudger — a football signee from Georgetown — has run 10.75 seconds in the 100 this season and 22.63 in the 200.
Sadly, Moore tore his meniscus in a stint swap last weekend and is likely out for the rest of the season, but he ran 13.94 for the 110 hurdles in Knoxville and tied the former Dobyns-Bennett star Ken "Scat" Springs. Northeast Tennessee record in the event.
Gudger and Stevenson will be featured prominently in the 42nd Six Rivers Relays presented by Watauga Orthopedics, taking place Friday, May 6 at Science Hill's Kermit Tipton Stadium.
Spectators better pay close attention as both can complete their best trials in the blink of an eye.
BURNT TRACKS
Stevenson has been lighting up tracks across East Tennessee all spring, including at the 54th Volunteer Track Classic held earlier this month at the historic Tom Black Track in Knoxville.
He ran the 100m in a blistering 10.53 seconds, the fastest automatic and legal time recorded for a Northeast Tennessee sprinter in 22 years.
"I'm focused on getting down to around 10.3 by the end of the season," Stevenson said. "I just have to work hard and good things will come."
Days before the Big 8 Conference meet, Stevenson announced his commitment to track racing at Arkansas-Little Rock. The Trojans are a busy sprint schedule in the Sun Belt conference, but they will be moving to the Ohio Valley in the near future.
"It was the right school for me with coach (JP) Behnke following me," Stevenson said. "Even though I haven't visited the school yet, I feel like it will be the right place. I feel like I can make an impact up there and show them what that boy from Tennessee is all about.
BEST LINK
Stevenson is lightning fast in the 100m, but his best event might be the 200m, as evidenced by his Friday night performance at the Crowe-Coughenour track in Dobyns-Bennett.
Racing under the lights towards the end of the Big 8 encounter, Stevenson shone brightest with a sizzling 21.18. His time broke the converted encounter record of 21.84 which had been held by DB's Darwin Bond since 1968.
Stevenson's time was so quick that he beat – by half a second – the raw time of 21.6 for a 220-yard dash. And doing it at Kingsport was probably the sweetest thing of all.
"With all due respect to these greats, I always wanted to be the best," Stevenson said. "When I leave Greeneville, I want to leave being the greatest."
Bond is certainly no slouch when it comes to awards. Best known for his quarter-mile dominance, the "Model City Mercury" won a stunning 46 consecutive races at 440 yards throughout his high school career and finished undefeated over the distance.
He wasn't too bad over short distances either.
In his senior year, Bond was the nation's top-ranked sprinter in all three distances: 100 yards (9.5), 220 (21.0) and 440 (46.9).
Stevenson's 200 time from Friday trails only Bond's converted time in the Northeast Tennessee all-time standings by just six hundredths of a second (21.12).
"I'm not really sure (Jaden) understands what he's doing yet," Greeneville coach Larry Blalock said. "He knows he's fine and he knows where he wants to go. He is the fastest kid to ever attend Greeneville High School and now holds the school records in the 100m and 200m and is part of the 4x100m relay record.
"That speaks a lot to him."
GAIN EXPERIENCE
Stevenson gained plenty of experience piloting one of the state's all-time leading sprinters twice in the playoffs last year when he faced Bearden's Christian Langlois in the Sectional Meet and D 'State.
Langlois won the high-class double in the 100m in 10.43 – a state meet record – and the 200m (21.09).
"I hated watching it because it was (Langlois) instead of me," Stevenson said. "Since then, Chris has stayed close and in touch. That's always a good thing.
"With a guy like Chris he just pushes you to be your best and I admire him. It's a respectful thing between him and me and there's no bad blood at all.
TO BE THE BEST
Heading into the Six Rivers Relays, Stevenson is the top seed in the 100m, 200m and long jump. He is second in the 400.
He is ranked below meet records in his two main short distance events and has a chance to make history in the region's first meet.
Jordan Ware of Memphis Central is currently the state leader in the 100 (10.50) and 200 (20.94).
"We're stepping into new waters with two sprinters like us," Blalock said. "I've been noticed more for some runners and hurdles along the way, but it's nice to have two guys who can run like Mason and Jaden.
"The hardest part is finding the best ways to use them."
But the Greene Devils have their sights set on much more than great regular-season performances.
The drop in ranking has helped Blalock's team immensely. Greeneville was ranked the top preseason team in Class AA and is still expected to win even with the loss of the state's top hurdler.
The Greene Devils believe they have a shot at living up to Greeneville's other nickname: "Titletown."
"I feel really good about our chances," Gudger said. "I feel like we should blast everyone and everyone in the team feels that. As long as everyone is together and working towards that goal, I think we should win.
[ad_2]
Source link