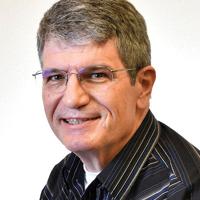 Cool off with hot books this summer | Opinion
Are you looking for something fun to do to beat that sweltering Texas summer heat?
Put down the joysticks and grab a book!
If a book seems too intimidating, grab a magazine or newspaper (naturally we prefer the latter). The main thing is that you read something. You don't have to limit yourself to summer, although there's usually more time to engage in page-turning adventures, especially for youngsters while school is out.
As for me, I got into the habit of reading when I was 5 or 6 years old. His name was Willie. He was a ghost who did the most fascinating magic tricks. I know because it was in a book I read. It was the first book I ever read.
"Spooky Tricks" by Rose Wyler and Gerald Ames and illustrated by Tālivaldis Stubis was published by Scholastic Book Services in 1968. The cover price was 50 cents. I fell in love with this book. I was so determined to find out what this ghost was doing that I went to great lengths to learn how to read the words. It was a life-changing moment the first time I read all 64 pages of this little book for myself. That's when I knew I could read and the world suddenly opened up to me in an incredible way.
Not only did Willie help me learn to read, but he also taught me some cool tricks. I learned how to write invisible messages with lemon juice and then make them appear with heat. There were other simple tricks, but that's the only one I can remember five decades later.
I guess it makes sense that I grew up to be a writer since I always loved reading. In fact, my becoming a writer is somewhat ironic. I've never been good at grammar. I have never passed a "C" in any grammar class.
The English language and I don't play well together. I am more his adversary than an ally. Every day, I sit at my computer and dance across the blank page much like two knife-wielding gang members handcuffed together in a duel. Instead of blood, I spill ink.
Yet my love for writing, and journalism in general, stems from my passion for reading. Throughout my primary and secondary school years, my reading levels were always ahead of the curve. For a kid who hated school and did poorly in every other subject, that made me an academic oddity.
I read my first complete novel in CM2. It was a Lone Ranger book. When I got into college, I was into books based on movies I had seen. I was a regular at this little bookstore we had in my hometown. One day, while rummaging through used books, I found a copy of "Raise the Titanic" by Clive Cussler. I sank my teeth into it. I went back and got all the previous Dirk Pitt adventures I could find. Cussler was instantly my favorite author. I have read almost every book he has written, including the most recent ones written posthumously by his co-authors.
Although I love to read and am an advanced reader, one issue I have is my speed. I am a very slow reader. I can't read faster than you can read aloud. It's painful sometimes to be so slow, but on the other hand I absorb a lot more of what I read because it has time to sink into my brain.
Sandy, my wife, is a very voracious reader. She can read very quickly. It's not uncommon for her to knock out a book in an evening or two. The same book could take me weeks to read.
And our passion for reading has passed on to our children. I really enjoyed the bonding time books that came with them when they were little. I remember my mom doing that for me. It was great. Every young child who is read to does better in school. At least that's what many studies tell us.
Over the past few years, my reading time has been drastically reduced due to long commutes to work and other commitments. I took advantage of this travel time to listen to audio recordings of books. I now count that as reading. It's about an hour a day that I manage to enrich my life for a time that would normally be bogged down in tedious boredom.
I've made some incredible discoveries since I started listening to audiobooks in 2009. I've listened to entire series including Harry Potter (twice), Left Behind, Ender's Game, Brad Thor's Scot Harvath, The most of Brad Meltzer's thrillers and non-fiction. books, Lee Child's Jack Reacher, and nearly every book published by Zig Ziglar, Dave Ramsey, Andy Weir, and many more.
I read/listen to a healthy mix of self-help, non-fiction, biography, thriller, sci-fi, etc. But the book that I have read and loved the most is the Bible. I usually start my days by reading it over breakfast and a hot cup of coffee, then going into a time of prayer. I have read the Bible cover to cover many times now and I have no intention of quitting.
Looking back, it's hard to believe that this world of words had such a huge impact on my life, all because I was curious about what a little ghost named Willie was doing in a children's magic book.
Thanks Willie! I hope our paths will cross again one day. And I hope you encourage more children to read, no matter how short on print you are.
Joe Southern is editor of the Wharton Journal-Spectator and the East Bernard Express. He can be contacted at [email protected]