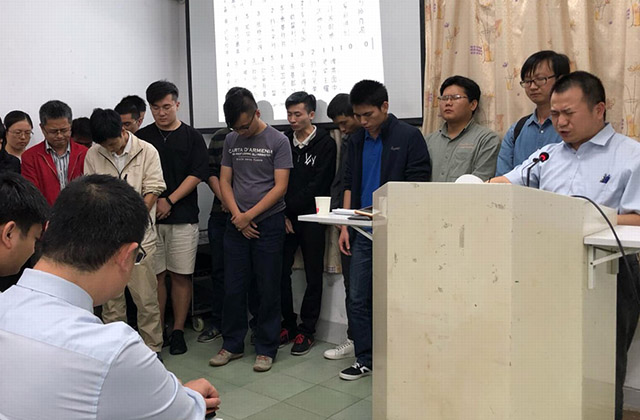 Chinese government blocks popular Bible app
Levels of Persecution: China Jumped 13 Places, From 43rd (on 2018 Global Watch List) to 27th on 2019 List | Courtesy photo.
In July 2019, a 6-year-old Chinese Bible app called WeDevote marked a milestone – 10 million installs. With its sleek design, copyright compliance, Bible reading plans, and devotions, WeDevote sets itself apart from other Bible apps for smartphones and tablets available in China.
The app is an indispensable resource for Chinese Christians. Almost all of WeDevote users are from mainland China, where government officials have recently made it more difficult to purchase physical copies of the Bible. Officially, the Bible in China can only be sold in government-approved Three-Self Church churches.
But while WeDevote co-founder Levi Fan may have been proud of the 10 millionth download on July 6, 2019, the celebration was short-lived. Within a week, Communist censors blocked Chinese access to WeDevote's website and removed the app from most nationwide app stores.
It wasn't the first time they've taken on China's most popular Bible app. Since Fan and two others launched WeDevote from Beijing in 2013, Chinese authorities have monitored its growth, intimidated Fan, and attempted to shut down the app. The pressure is likely to continue.
Still, Fan believes God is on his team's side. "In China's tightening environment, foreigners thought there was no way to create this app and survive," he told me in September. "But we were able to do it."
Since the Chinese Communist government enacted new religious regulations early last year, authorities have increasingly cracked down on religious activities. For years, the rules on the sale of printed Bibles were not enforced, and Chinese Christians could find Bibles on e-commerce websites or in Christian bookstores. But the government began to enforce the law, and in March online retailers including Taobao and JD.com stopped selling Bibles.
Authorities have closed Christian bookstores and Christian publishers are having difficulty publishing Christian books on the mainland. Fan noted that although believers can still purchase Bibles from Three-Self-Guided churches, many Christians live far from these churches, which often do not offer many different versions of the Bibles.
Christian media online have also felt the noose tightening. In the past, as long as the Christian content did not touch on politics, the censors left it intact. But now, after the publication of a bill last year to regulate unregistered religious information online, the government is shutting down Christian channels on WeChat and other social media apps and websites.
WeDevote is among the last to have the ax.
FAN AND TWO OTHER CHRISTIANS in Beijing came up with the idea for WeDevote in 2010 because they saw the need for Bible applications in China. At the time, Chinese users who downloaded YouVersion, a popular Bible app created by a church in Oklahoma, found the program crashed due to the Chinese government's server crashing of the app.
Other mainland-based Bible apps were poorly designed. They also used content from other sources without permission and lacked quality control. "As a user, you didn't know which material was theologically good or bad," Fan said.
At first, Fan and his partners tried to outsource the creation of their app, but they weren't happy with the results. In 2012, when Fan quit his job at a tech startup to attend the seminar, a friend asked him to consider serving God by leading a team to develop the Bible app. Fan agreed, delaying the seminar for two years to work on WeDevote.
He wanted the design of the app to look good so people would want to open it up and read the Bible. His team has partnered with various Bible publishers to include several Chinese and English Bible translations, respecting copyright laws and paying royalties. To ensure that the app can withstand unpredictable Chinese internet service, the designers made the features downloadable so that the app could work offline.
The first Android version of WeDevote was released in June 2013 and the iPhone version was released in July. In the same month, the Xiaomi app store listed WeDevote as one of its "recommended apps" on the store's home page. Suddenly, the Fan team was seeing over 8,000 downloads per day.
This nudge opened Fan's eyes to another reality: creating an app could be a form of evangelism. "On the Chinese Internet, there are so many people downloading apps, yet very few religious apps exist," he said. "When we were on the home page, it was an opportunity for many people to learn more about the gospel."
By the end of the year, WeDevote had become the best Bible app in China. The developers continued to expand the app, adding devotions, Bible reading plans, and commentary to help Chinese Christians better understand the Bible and how it relates to everyday life. They asked pastors and theologians to assess the theological soundness of the content of the app. To fund the app, team members undertook side projects and collected donations from Christian-owned businesses in China.
The problems started in 2015. The Beijing Public Security Bureau invited Fan for a chat and asked him about the company and where its funding was coming from. A police officer politely told Fan that officials were monitoring everything about him: they were aware of the articles his wife had written on a Christian WeChat account and the new house they had purchased. Fan was scared and at night he had nightmares of being thrown in jail.
"It was uncomfortable knowing that they knew everything, but because the Chinese house church has faced this persecution in the past, it was no stranger to me," Fan said. Each morning, members of the WeDevote team prayed and read a psalm together. Every Tuesday they held a two hour prayer meeting. "It helped me draw closer to God. I realized that I couldn't do it on my own and needed to pray more.
Authorities asked Fan to shut down WeDevote, otherwise they would accuse the company of creating an illegal app because it did not have a registration number. Most Chinese apps are unregistered, but Fan knew WeDevote was probably under pressure because of its Christian content. His team therefore decided to shut down the app and shut down the Beijing business.
But they were prepared for this situation: several months earlier, they had created another company in Hong Kong. They were able to transfer ownership of WeDevote to the Hong Kong company and bring the app back online.
WeDevote didn't encounter any further issues until July, when authorities cut off access to its website and removed it from all national Android stores. Although the app is still available on Apple's App Store, most Chinese citizens use Android-based home smartphones like Huawei, Oppo, Vivo, and Xiaomi.
No one informed Fan why the app was removed from the app stores. He suspects that the government has taken action due to the growing influence and popularity of WeDevote.
TODAY WHEN YOU TYPE "Bible" in the Xiaomi app store, seven Chinese Bible apps appear, along with a handful of apps for hymn books, Christian music, and Christian videos. Search the Apple App Store for the same term outside of China, and you'll find an endless scroll of options, from Study Bibles and Children's Bibles to Bible Cards and Chinese Dictionaries.
Without the WeDevote platform on the national app stores, it is difficult for the app to find new users and provide updates to current users. Fan's team is considering ways to get the app back on stores (he's hesitant to share details publicly). A workaround is to use the app's share feature: by sharing WeDevote's content with friends, users can invite them to download the app through a link instead of relying on the App Store. .
Caleb Jin, a Christian from Shanghai who now lives in Los Angeles, said WeDevote had helped him get into the habit of reading the Bible. He found it convenient to be able to read the Bible anytime and anywhere because his phone was always by his side. He spends about 20 to 30 minutes on WeDevote each day, sometimes listening to the audio Bible while driving or cleaning his house, sometimes following a Bible reading plan. At his church in Shanghai, he said, worshipers used WeDevote to read a daily prayer together, encouraging discussion and accountability.
Fan also now lives in Los Angeles. As he reflects on how WeDevote accomplished the impossible by the power of God, he remains hopeful for the future.
Last year, he returned to Beijing and heard testimony from a church that could no longer meet for Sunday worship due to pressure from the government. Instead, the faithful gathered in 23 separate small groups. But the persecution eventually increased their number: now they have 48 groups.
"It's hard to imagine, you look at the surroundings and you feel like there is nothing you can do, but in reality there are great opportunities," Fan said. "I believe the Internet is like that too."