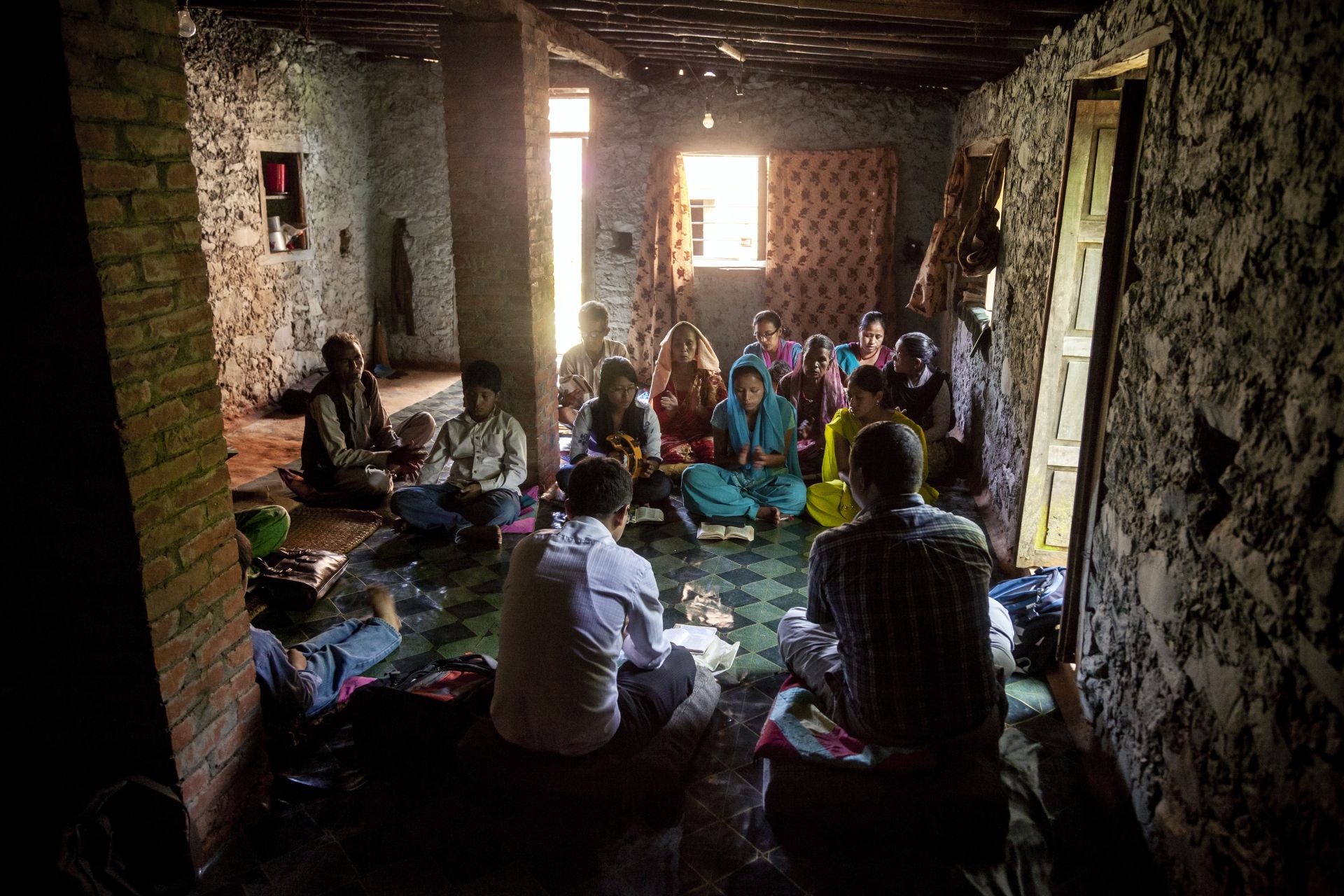 Bible Story Translators Deliver the Gospel to Least-Reached Peoples
Above: Nepalese Christians gather to sing and pray during a service at a small church in Hokse, near Kathmandu, Nepal.
Bir Bahdur is a simple animal breeder. Sometimes he works as a day laborer. He is calm and gentle. He is uneducated and soft-spoken. He does not consider himself qualified to share the gospel, let alone teach it. Many of his fellow South Asians don't think so either.
But the beauty of the gospel is that it brings value to those whom society considers unworthy.
Bir Bahdur became a believer by hearing Bible stories that were translated into his language by a coalition of International Mission Board (IMB) staff, translators from Omega Training Partnership and another international translation organization. Together, these three organizations form a Bible translation project.
After hearing and believing the truth, he knew he wanted to share it. With encouragement from other participants and trainers from the project workshops, he learned to create and share Bible stories in the language of his heart.
He started telling people he met every day the Bible stories. And people listened.
"He's not trained; he's not professional, but he knows the God he serves," said Royce Alyward, an IMB employee who helps lead the translation initiative. "And he knows how to tell those stories. It is by sharing these stories that the Word of God came out.
Bir Bahdur reported that several of his friends professed their faith in Christ after hearing the stories.
However, his influence did not stop with those friends who simply believed. He intentionally made disciples of these believers, and now, under the influence of Bir Bahdur, two house churches have started in his remote area.
The story of Bir Bahdur is not isolated. Royce and his wife, Elsbeth, can tell story after story of churches planted and lives changed through this translation project.
The idea behind this massive Bible translation project is to engage the least-reached places with the Gospel. Bringing the Word of God into the language of the hearts of distant people has fostered the planting and multiplication of healthy churches.
Since this coalition began in 2013, the Alywards said the project has seen:
The completion of the Bible story takes place in 23 languages ​​among many underserved groups of people in South Asia.
Increase gospel sharing and indigenous church planting in these 23 languages.
Initiating and advancing the translation of the New Testament into 16 of these 23 languages, with imminent plans to begin translation into four more.
Ongoing interaction between discipleship and church enrichment with growing churches in many least reached peoples of South Asia.
Key to seeing work of this magnitude accomplished has been not just the partnership between the three organizations, but the strategic discipleship and deployment of national believers.
"This task is too big for anyone," Elsbeth said, "but it is certainly biblical to have this kind of collaboration between like-minded organizations."
As the groups partnered, they were careful not to duplicate each other's work.
She continued, "We are working so that every tribe, every language can have an understandable and appropriate presentation of the gospel in their language. It's such a huge need in this region of South Asia where there are so many harder to reach languages ​​in harder to reach areas.
Burden sharing eases the burden on cross-cultural workers to learn each of the more than 100 languages ​​spoken in their region.
"When a new worker is onboarding, learning the primary language is a huge task," Royce said. "As we move forward, for a cross-cultural worker, it can be very intimidating.
"One of the things we help them understand is that language acquisition is important. But we, as expatriates, do not need to learn all the languages ​​of the region. We have to learn major languages ​​(like Hindi). We work with national partners who are bilingual. Once we can communicate with them in the primary language of their area, we share the load with other believers and those who can help guide us in the language even before they come to faith.
This intentionality to share the load, especially with those who are not yet believers, not only relieves the IMB employee, but it prepares the translator to be saturated with the Gospel.
"We can intentionally look at those relationships and see how God is working," Elsbeth said. "We see how the Word of God is so effective, especially when they hear it in the language that speaks to their hearts."
Some names may have been changed for security reasons.