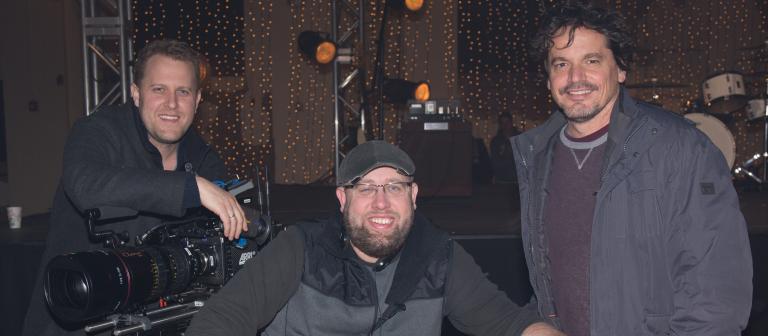 A new trilogy of Bible films is in the works from the creators of I Can Only Imagine and the studio behind The Shack
[ad_1]
Since The passion of Christ and his macabre depiction of the Crucifixion came out 15 years ago, the public has asked for a follow-up on the Resurrection.
Several films entered development immediately after Mel Gibson's box office success, but only one – resurrected, released in 2016 – was finally filmed. (The film's distributor even released a video highlighting the links between Passion and resurrected, actually treating this last movie as a sort of unofficial sequel to the first movie.)
A little after resurrected came out, Gibson said he's also working on a Resurrection movie – although he hasn't said anything about that project since.
And of course, we can't forget the small screen, where Mark Burnett and Roma Downey produced a short-lived series – 2015's The Bible continues – which began with the first Easter and then dramatized the first ten chapters of the book of Acts.
Now it seems another set of filmmakers will try their hand at the Resurrection.
Lionsgate – the studio that distributed The shack and I can only imagine – announced today that it is partnering with the directors of the latter film to produce a roster of "faith-based" films, including a trilogy of Bible films (billed as "a new cinematic universe of Bible stories ") Which will start with Apostles: Resurrection of Christ.
The film is one of several that are being developed for Lionsgate by Kingdom Studios, a company co-founded last year by I can only imagine directors Jon and Andrew Irwin and their producer Kevin Downes. (It's them pictured at the top of this article; I interviewed Jon Erwin when I can only imagine was released last year.)
The full press release is published below. But for now I note that he sounds as this trilogy will aim to do, on the big screen, this A D tried to do on the small screen: start with the Resurrection and continue from there through at least some of the Acts of the Apostles. (If my guess is correct, then Apostles could end up overlapping last year's one Paul, apostle of Christ, which was released by Sony, the studio that distributed resurrected.)
I also note that while it seemed like last year that the biblical film genre had died out, it is now the third new Bible movie that was announced this year, following DeVon Franklin's movie The garden, on the Garden of Eden, and Arise, based on Deborah's story in Judges 4-5. Hope they all get past the development stage!
And now the press release:
– – –
KINGDOM STUDIOS ANNOUNCES NEXT LIONSGATE FILM ANNOUNCEMENT
ONE AD MARKS AN UNPRECEDENTED OFFER OF FAITH FILMS WITH A GOAL TO RELEASE TWO FILMS EACH YEAR
SANTA MONICA, California, March 27, 2019 – Kingdom Studios, founded late last year by the creators of I CAN ONLY IMAGINE, the best-selling and highest-grossing independent film of 2018, have unveiled an unprecedented list of projects faith-based films to be developed and produced by Kingdom and released as part of their recently announced partnership with global content leader Lionsgate (NYSE: LGF.A, LGF.B).
During a two-hour main event held to officially reveal the studio roster at the National Religious Broadcasters Convention in Anaheim, Kingdom invited several special guests to the stage, including the award-winning band KING & COUNTRY. 'a Grammy Award, Pastor Greg Laurie, # 1-selling musical artist Jeremy Camp, whose life story will be the focus of an upcoming biopic Kingdom, and a special recorded message from the president of the Lionsgate Motion Picture Group, Joe Drake, among others.
Kingdom Studios' acclaimed co-founders and directors Jon Erwin and Andrew Erwin (I CAN ONLY IMAGINE, WOODLAWN) told the convention center crowd that their new company is already ramping up production on the slate, developing much in-house material while working with talented storytellers. They said their growing team is focused on developing and producing inspiring and ambitious family entertainment. Kingdom will offer event films for religious audiences with the goal of releasing two theatrical releases each year.
"Kingdom Studios' dream is simple: to build a media business dedicated to telling life-changing stories by empowering amazing artists and creatives," said Jon Erwin.
"We're thrilled to partner with global content leader Lionsgate to make this dream come true," said Kevin Downes, Co-Founder and Producer of Kingdom Studio.
"Lionsgate is built on the very idea of ​​delivering stories to all audiences that inspire, uplift and entertain. The films Kingdom unveiled today add an exciting new dimension to our already existing commitment and relationships within the faith community. Together, our unprecedented partnership will ensure these films have all the resources, strength and support of our studio to amplify Kingdom's existing vision while reaching the widest possible audience globally, "said Drake. "Jon, Andrew and Kevin are filmmakers who are completely dedicated to their craft and have established a strong relationship with an audience by consistently delivering high quality films and doing so with a very special intimacy to see. Lionsgate is more than excited to partner with this team and their company to help develop and extend this reach and message even further. Now more than ever, we need films like these and a company like Kingdom. "
The opening speech marked the first time that a studio-backed production company announced a list of films it produced for religious audiences.
The first film for Kingdom Studios, as previously announced, is I STILL BELIEVE. Set for release on March 20, 2020, the inspirational drama tells the true story of Christian music mega-star Jeremy Camp. Her remarkable journey of love and loss proves that there is always hope in the midst of tragedy and that tested faith is the only faith worth sharing. The film is written by Jon Erwin and Jon Gunn, directed by The Erwin Brothers and will be produced by Kevin Downes.
New movies announced by Kingdom Studios include:
REVOLUTION OF JESUS which tells the true story of a national spiritual awakening in the early 1970s and its origins within a community of hippie teenagers in Southern California. The film will be produced in association with Pastor Greg Laurie. Written by Jon Erwin and Jon Gunn, the film will be directed by Jon Gunn (THE CASE FOR CHRIST, LIKE DANDELION DUST) and produced by Kevin Downes and the Erwin brothers.
Downes also presented a trilogy of Bible-inspired films that will create a new cinematic universe of Bible stories. "The best-selling book of all time is the perfect source material for the most gripping cinematic universe ever made with characters," said Downes. The first film in the trilogy will be AFTER: RESURRECTION OF CHRIST. The film will be written by Jon Erwin and Jon Gunn and directed by The Erwin Brothers. Kevin Downes will produce.
To wrap up the keynote, the team gave a preview of a film that has just entered development. THE DRUMMING BOY is a period musical developed in association with the denominational musical group for KING & COUNTRY, the two-time Grammy Award-winning duo that won four No. 1 singles ("joy", "Priceless", "Fix My Eyes, "and" Shoulders "), nine Top 10 hits, and songs featured in the Emmys, Super Bowl, Sunday Night Football and many other high profile events including performances on The Tonight Show, Today and Jimmy Kimmel Live! Introducing the film and the group, Andrew Erwin described the film as something "never seen before in the space of faith that will surprise and delight audiences around the world." The film is currently in the making. early stages of development and will be written and directed by The Smallbone Brothers, co-written by Richard Ramsey (The Song) and produced by Kevin Downes and The Erwin Brothers. Luke Smallbone will serve as executive producer.
Kingdom Studios executives include Jon Erwin, Andy Erwin, Kevin Downes (together, the trio have created films such as I CAN ONLY IMAGINE, WOODLAWN, STEVE MCQUEEN: AMERICAN ICON) and Tony Young (I CAN ONLY IMAGINE, THE SONG) . Kingdom Studios is present in Los Angeles and Nashville.
ABOUT KINGDOM STUDIOS
From the creators of I CAN ONLY IMAGINE comes Kingdom Studios, a new entertainment content company in partnership with Lionsgate. Led by Jon Erwin, Andy Erwin, Kevin Downes and Tony Young, the company strives to create life-changing content from a variety of talented storytellers.
ABOUT LIONSGATE
The first major new studio in decades, Lionsgate is a global content platform whose films, TV series, digital products, and linear and over-the-top platforms reach next-generation audiences around the world. . In addition to its leadership in filmed entertainment, Lionsgate content is growing its presence in interactive and location-based entertainment, games, virtual reality and other emerging entertainment technologies. Lionsgate's content initiatives are supported by a film and television library of nearly 17,000 titles and delivered through a global licensing infrastructure. The Lionsgate brand is synonymous with original, bold and revolutionary content created with a special focus on the evolving models and the diverse makeup of the company's global consumer base.
Update March 28: Here is the video from the main event where the Kingdom Studios slate was announced; the little on Apostles starts around the 58-minute mark:
The creators of I Can Only Imagine have some really BIG news to share today about their new venture with Lionsgate called Kingdom Studios. Discover the heart of this new film studio and enjoy LIVE musical performances by KING & COUNTRY and Phil Wickham.

Posted by The Shack on Wednesday March 27, 2019
[ad_2]
Source link